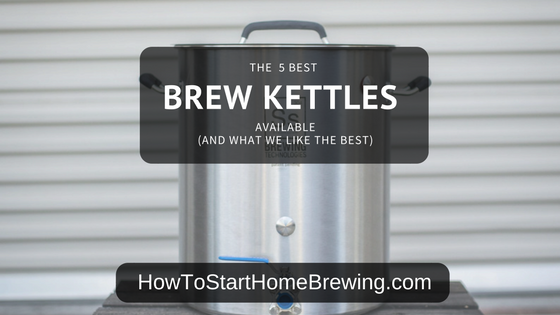 Let's state the obvious right out of the gate: if you're brewing beer, you're going to need a brew kettle.
However, the type of kettle you end up choosing is going to depend on a few things:
Your budget
Your preferred batch size
Your demand for quality and durability
Depending on where you fall, this can make the decision on what to buy a little tricky.
The best brew kettles out there are, in my opinion, ones that will typically hit all of the 3 points I listed above.
Since I often hear new brewers looking for a kettle that will meet those demands, I thought a write up covering the best brew kettles on the market would fit the bill.
That said, if you're looking for a new kettle, you're in the right place.
Breakdown of the Best Brew Kettles
Many new brewers often start their journey with a cheap stockpot/kettle.
While these kettles work for your first few batches, they're truly made for cooking. They're not designed to stand up to the rigors of brewing.
You need, at the very least, something that is durable and built specifically for brewing.
Is it going to be the cheapest thing you'll buy? Hardly. 
It will, however, be an investment that will last for a long time. You take care of a brew kettle and you'll get many years out of it – guaranteed!
Now before I break everything down, I want to state the following:
I am assuming that you will be brewing 3 to 5 gallon batches, as the kettles below are no smaller than 8 gallons. Batches of this size will allow you to achieve a full-boil.
I only cover kettles of this size because 5 gallons is typically the standard batch size for homebrewing.
If you plan to go bigger or smaller than 5 gallon batches, you can find many of the same kettles in a larger or smaller size.
Make sense? Good! Now let's get down to the good stuff…
#1 – Ss BrewTech 10 Gallon with Ball Valve
Ss Brewtech is quickly becoming on the of the top names in the homebrewing industry. Their build quality is unmatched, so it should come as no surprise why their signature Brew Kettle is my favorite.
Constructed using heavy-duty 18 gauge 304 stainless steel, this kettle can take a beating and still look and perform as good as it did on the first day! The sturdy (and comfortable) silicone covered handles make handling and transporting hot wort an absolute breeze.
On the inside, you'll find internal etched markings to ensure your volume is always at the right level. A trub dam helps filter out unwanted particles into your fermenter as it funnels through the 3 piece ball valve. The result – cleaner (and clearer) beer.
Personally, I use this specific kettle for my mashing (along with the false bottom and temp gauge, which can be purchased separately). Once I made the switch, I haven't looked back since. It has been worth every single cent!
No leaks, no rust, no trouble. It's a solid piece of equipment from a company that earned my trust right out of the box!
If there is any brew kettle that gets 100% of my respect (and then some), it's this one.
Read more about it here: Ss Brewtech 10 gallon Brew Kettle
#2 – Bayou Classic 10 Gallon with Ball Valve

Another common brand name in homebrewing is none other than Bayou Classic. They are known for producing a variety of reliable brew kettles in all sorts of sizes.
Their 10 gallon kettle is made from heavy-duty 20 gauge stainless steel. Compared to the Ss Brewtech above, it is slightly thinner, but still durable enough to use as a brew kettle (especially for the typical 5 gallon batch size).
At first glance, you will notice the handles are not silicone coated, which means you'll need some extra care when handling (as steel handles tend to warm up quickly, depending on the heat source). Regardless, the handles are durable and sturdy enough for simple handling and transporting.
Some folks say they've experienced issues with the ball valve, however, you need to ensure that it is properly installed. Too many times I see people overtightening when installing, which can lead to more issues. Hand tight is all you need.
I use this as my main boil kettle in my current setup and haven't had any issues thus far. It's lasted quite a few batches and serves it's purpose well.
And if that weren't convincing enough, the price won't empty your bank account.
Check it out here: Bayou Classic 10 Gallon with Ball Valve
#3 – MegaPot 8 Gallon with Ball Valve
The MegaPot 1.2 is another fantastic, durable, and reliable kettle directly from the folks at Northern Brewer. If you're brewing standard size batches, this is yet another kettle that can get the job done.
Similar to the Ss Brewtech Brew Kettle, the MegaPot 1.2 is an absolute beast! Created from nice and thick stainless steel (0.8mm, or 20-gauge wall thickness), it's another kettle that can take a beating in your home brewery without losing any durability. Silicone coated handles make moving this monster safe and easy. No need for oven mitts or washcloths here!
Due to it's smaller size (compared to 10 gallon kettles), batches of 5 gallons and lower are ideal. It's also perfect for BIAB (brew-in-a-bag). The easy-to-open ball valve gives you total control over the flow of your hot wort as you transfer it to your fermentation vessel.
What about water volume? Internal etched markings have you covered (one at each gallon). No more guessing games or "eyeballing it" – one quick look inside is all you need.
Albeit on the more expensive end, if you're looking for something less than 10 gallons in size, this is one of the best brew kettles to fit the bill!
See more on this kettle here: MegaPot 1.2 8 Gallon with Ball Valve
#4 – 
Kegco 8 Gallon Brew Kettle with Ball Valve
Rounding out the best brew kettles with ball valves is the Kegco 8 gallon brew kettle. Similar in nature to it's "cousins" above, it's construction of 304 stainless steel makes it a durable and reliable piece of equipment.
Batch after batch, you'll have no problems transporting and moving hot wort in the kettle, thanks to the silicone coated handles. Full-boils of 5 gallon batches are a piece of cake, with plenty of headroom to prevent boilovers.
The only downfall that I see with this particular kettle is that it is slightly thinner than some of the other models listed here (22 gauge stainless). Still, it's stronger than many kettles on the market and will last you many years (with good care, of course).
Similar to the SsBrewtech Brew Kettle, the Kegco can be purchased with or without the thermometer attachment. If you plan to do BIAB, the thermometer makes an excellent accessory. It's convenient and allows you to monitor your temps during the mash without having to open up the lid and release heat.
See more on this kettle here: Kegco 8 Gallon Kettle with Ball Valve
#5 – Bayou Classic 10 Gallon without Ball Valve (for those with a smaller budget)
If you're looking for something simple and easy on the wallet that still gets the job done, this has your name written all over it!
The Bayou Classic 10 gallon stainless brew kettle is perfect for new and old brewers alike. It is budget friendly (less than $60) yet still has same build as its bigger brother (kettle with ball valve previously mentioned above).
One of the pitfalls of this kettle is the most obvious – no ball valve. This can make transferring wort into your fermenter a bit tougher, as you'll need to dump it in rather than let it flow from the spigot. If you're brewing relatively small batches on your own, there is no need to worry. This will work just fine.
If you're a BIAB brewer, this kettle is the perfect size, accommodating 5 to 6 gallon batches at full-boil with ease. No silicone coated handles on this puppy though, so you'll need to pay extra attention when handling.
Again, for a kettle that's under $60 in price that allows you to boil full-size 5 gallon batches without any issues, it's an absolute steal!
Check it out here: Bayou Classic 10 Gallon Brew Kettle (without Ball Valve)
Remember: Quality Goes a Long Way
When it comes to the best brew kettles, any of the 5 mentioned above are tough to beat. They all have their differences and similarities, but in the end, it usually boils down to the minor details and personal preference.
However, if I had to pick one as the best of them all, it would be the Ss Brewtech Brew Kettle. It's nothing but solid build quality and has durability that is unmatched, hands down!
Seriously – these things can take a beating brew day after brew day, and they will still hold up as strong as they did on the first boil. It's the reason why they are one of the top brands in homebrewing equipment today!
Before I let you run off, remember this – in homebrewing, quality is always worth paying a few extra dollars for. You'll spend more upfront but save fistfuls of money in the end.
Tough to argue with that now, isn't it?