Thinking about brewing your own beer at home? If so, many out of the box home brewing kits can help lay a good foundation for making your own craft beer!
While you won't need anything particularly fancy or advanced to get you going, it's best to get your hands on something that comes loaded with everything you need to get the ball rolling.
The Best Home Brewing Kits for Beginners
With so many beer brewing kits to choose from, it can be tough to narrow down one that is best for you and your skill level. To make things a bit easier for you, we've put together this quick summary of the 3 best home brewing kits that are currently available on the market.
All starter kits listed below get our seal of approval as a fantastic way to get started on your home brewing journey.
Northern Brewer Homebrew Starter Kit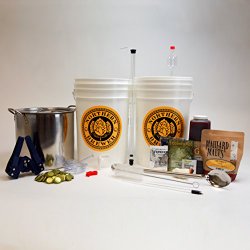 Who This Kit Is For: Beginners who are looking to start with an extract kit, but eventually have the desire to graduate to partial or all-grain brewing.
While it involves a bit more legwork, the ridiculously detailed instructions make brewing easy and will give you a true brewing experience. The equipment is also built to last and is easily expandable as your skills grow, making this a fantastic all-around kit and one of the most versatile of them all.
More About This Kit: When it comes to beer kits, Northern Brewer is the king of them all. This company been known for years to produce home brewing products of the highest quality, helping many beginner home brewers turn ordinary ideas into extraordinary tasting beers! They are a trusted brand and one that comes highly recommend from my own first-hand experience.
That said, this home brewing kit is the exact same one that I started out with, and it comes loaded with all of the necessary high-quality ingredients and supplies you need to brew your first batch of beer.
Trust me when I say that you won't be disappointed!
What's Inside the Box: The Northern Brewer Homebrew Starter Kit comes equipped with the following:
Block Party Amber Ale recipe kit (which will get you 5 gallons of sweet tasting beer and includes your yeast, specialty grains, malt extract, hop pellets, and priming sugar)
6.5 gallon fermentation vessel with lid and Bubble airlock
Bottling bucket complete with a spigot for bottling
Easy one-touch bottle filler
5 gallon stainless steel brew kettle (note: this is crucial)
21-inch stainless steel stirring spoon
Auto-siphon (makes racking your beer from one vessel to the other easy and mess-free)
Tubing (used for racking with Auto-siphon listed above)
Cleaner/sanitizer (we prefer StarSan, but this will fit the bill on your first few batches)
Bottle brush
Bottle caps and bottle capper
What's Missing: Like many of the higher-end kits, you will need beer bottles. The good news is you have two options:
Purchase two cases of 12 ounce beer bottles (as this 5 gallon batch will yield roughly 48 beers).
De-label and recycle beer bottles you might have laying around the house (no shame in this, as it's something that I do frequently). Make sure they are bottles that previously used pry-off caps, as twist tops will NOT work!
You will also want to get your hands on a thermometer to help you determine when your boiled wort is cool enough to pitch your yeast. A meat thermometer will do the trick here, but you can also get your hands on a home brewing thermometer (which is an inexpensive investment).
Also, if you're interested in tracking the gravity of your beer to determine its final ABV, a hydrometer* is necessary.
* Measuring gravity and determining ABV is an entire topic on its own, so I wouldn't worry about this until you have a few batches under your belt and are comfortable with the process and flow of your brewing day. Your brewing kit will give you a rough idea of what you can expect for your final ABV percentage.
Final Thoughts: As mentioned above, you really can't go wrong with this kit. It's a bit more expensive than the others listed below, but for good reason: the quality and build is tough to beat!
Mr. Beer Gold Edition Home Brewing Craft Beer Kit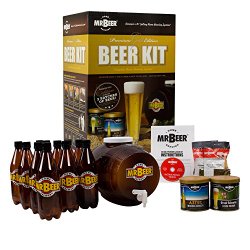 Who This Kit is For: The extreme beginner who is curious about home brewing and doesn't know if they will enjoy it or not. It's your ultimate basic beginners kit to help you test the waters.
More About This Kit: Mr. Beer has been long known for creating products aimed at those who are just looking to get their feet wet into making beer at home.
The Mr. Beer Gold Edition Home Brewing Craft Beer Kit is the perfect stepping stone into the world of home brewing. This particular kit has everything you need to make up to 4 gallons of beer.
Focused purely on extract brewing, it's as easy as dumping one of their many available extracts into water and adding the included yeast packet into the 2 gallon fermentation vessel.
What's Inside the Box: The Mr. Beer Gold Edition Home Brewing Craft Beer Kit comes loaded with the following:
2 gallon reusable fermentation vessel, complete with spigot for easy bottling
2 Mr. Beer All Malt extracts (produces up to 4 gallons of beer)
2 yeast packets
No-rinse cleaner/sanitizer
2 packs of Mr. Beer conditioning drops
11 reusable 740ml plastic bottles with caps and beer labels
Instructional video
What's Missing: Since Mr. Beer kits do not require you to boil your wort, you essentially have everything you need to create your own beer right out of the box. There is no additional equipment necessary.
Final Thoughts: As mentioned above, Mr. Beer home brewing kits are strictly for the beginner brewer.
While they won't give you the truest brewing experience, they do have their place in helping you get a feel for making your own beer. Once you brew a few batches, you will be able to find a wide assortment of malt extract refills available for your kit, allowing you to brew a wide variety of various beers.
If you prefer to keep things less intensive, this is going to be the best kit for you to start with.
Brooklyn Brew Shop Kits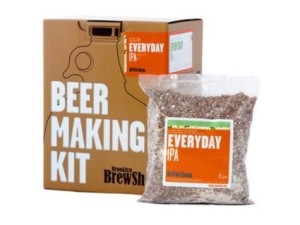 Who This Kit is For: Beginner brewers who want to work with grains and want a better brewing experience by using grain instead of extract. Also great for those looking to brew in smaller batch sizes (1 gallon).
More About This Kit: When it comes to small batch all-grain kits, Brooklyn Brew Shop is practically a household name. Their kits are designed to introduce you to brewing with grain as opposed to extract, which might seem like a challenge to the new brewer at first.
The good news, however, is that the process is quite simple and easy for anyone to do – even if you have no previous knowledge!
What's Inside the Box: All Brooklyn Brew Shop kits come packed with the following:
1 gallon glass fermentation vessel
Chambered airlock
Beer making mix (grain, hops, and yeast)
Racking cane
Glass thermometer
Tubing with tube clamp and screw cap stopper
Packet of sanitizer
While the equipment in each kit is the same, the kits do differ from one another depending on the type of beer you're looking to make. Fortunately, there are plenty of styles for you to choose from (we highly recommend the Everyday IPA or Afternoon Wheat as a good starting point).
What's Missing: Similar to the Northern Brewer kit listed above, you're going to need beer bottles. A 1 gallon batch yields roughly 11-12 bottles of 12 ounce beer, so you won't need a large inventory of bottles to start.
Still, it doesn't hurt to have a case on hand in the event that you want to brew another batch right after you bottle your first one. Of course, you could always recycle and de-label some empty beer bottles you have around the house. Again, you will need bottles that had pry-off caps, as the twist-off tops will NOT work.
To make bottling easier, you may want to consider picking up a bottling bucket with a spigot. This kit does have a racking cane with tubing and a clamp, but things tend to get very messy if you're not careful. Using a spigot gives you more control over the flow for better handling and stress-free fills.
A hydrometer may also be a worthy investment if you're interested in learning how to determine your ABV percentage.
It's not required, but it is a solid (and incredibly inexpensive) investment if you want to get a better idea of what your ABV percentage will be after your beer has completed fermentation.
Final Thoughts: If you want to start brewing with grain and get a great brewing experience without the commitment of brewing a large 5 gallon batch, this kit is the perfect solution. The simplicity, low cost, and ease of use make this one of our favorite kits for beginners.
Side-By-Side Comparison of the Best Beer Kits
Northern Brewer Homebrew Starter Kit

Mr. Beer Gold Edition Craft Beer Kit

Brooklyn Brew Shop Kit

Contains everything I need to brew beer from start to finish?

Yes

Yes

Yes

Contains bottling equipment (incl. caps, capper, and bottles)?

No, but does include bottling bucket, racking cane, tubing, bottle wand, and bottle capper

Yes

No,
but includes racking cane, tubing and tube stopper

Extract, Partial, or All-Grain?

Partial - included reciple kit is a mix of extract/steeping grains

Extract

All-Grain

Step-by-step instructions?

Yes

Yes

Yes

How much beer can I make from one kit?

5 gallons

4 gallons

1 gallon

Beginner, Intermediate, or Advanced

Beginner/Intermediate

Extreme beginner

Beginner

Click Here to Learn More About this Northern Brewer Kit

Click Here to Learn More About this Mr. Beer Kit

Click Here to Learn More About this Brooklyn Brew Shop Kit