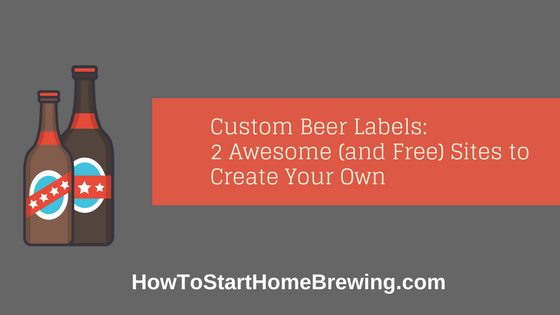 When people outside of the homebrewing hobby think of homebrewed beer, they often assume your beer is crap.
It's not that they mean to think this way, but plant a brown bottle without a label in front of anyone's face and you'll have to admit, the presentation isn't so intriguing.
It doesn't mean your beer tastes bad, but in today's world, perception is everything.
And that, my fellow homebrewer is where custom beer labels tend to set things apart.
Custom Beer Labels Are Easy to Make
It's not rocket science. Creating your own beer labels doesn't take a lot of time or energy, and they are actually quite simple to make.
If that's the case, why don't more homebrewers do it?
Perhaps some people just don't want to be bothered with making their own labels. And that's ok. To each his own, I say.
For those who want to add a little extra "zing" to their beer and give it the total package treatment, it's worth going the distance.
You Don't Need to Be a Top-Notch Designer
In most cases, lacking design skills when you're designing something wouldn't fly.
Except what I'm about to explain makes you the exception, not the rule!
And thanks to the internet (where you can find literally anything), I was able to dig up two AWESOME resources you can use to make beer labels that you and your friends will be proud of.
If that weren't exciting enough, you'll be happy to know it doesn't cost more than some paper, ink from your printer, and a little bit of your time.
How can you go wrong with that?
The Best Custom Beer Label Sites
Free site #1 – Canva (www.canva.com)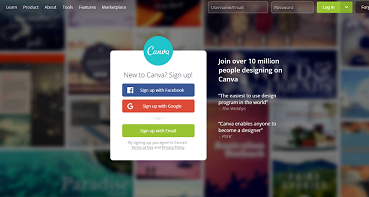 One of the coolest websites that I happened to stumble upon roughly a year ago was Canva – a multi-purpose graphic design tool built for people who aren't so "graphically inclined".
Usually, tools like this tend to be garbage. Options are limited and you end up with the same crappy graphics, spit out in only so many ways.
In other words, it gets boring after awhile.
With Canva, you can create your own custom labels with unique, eye-catching and professional-looking designs. Your beer will finally get the shine it deserves, but is it the right fit for you? Here is a quick breakdown of what we think will help you decide:
The Good Parts
Plenty of snazzy fonts, shapes, colors, and templates to choose from.
Custom dimensions give you the opportunity to make labels for both the bottle and bottleneck.
Easy to save off finished design in multiple formats for printing.
Designs can be saved to your account, making them accessible to edit anywhere at any time.
Drag-and-drop editing makes it easy to put things together.
Can import photos with ease.
It's FREE!
The Not-So-Good Parts
Can take some time to get used to if you haven't used a similar drag-and-drop tool.
Isn't as "quick and dirty" as other label making programs.
Should You Use It?
If you think that you will be able to make stunning beer labels within seconds of using it, Canva probably isn't going to be up your alley. There is a slight learning curve (and I mean very slight), but it's nothing that will take you ages to figure out.
If you're willing to stick with it though, the stuff you can crank out will really take the presentation of your beer up a few notches!
*On a serious note – Canva is, hands down, one of the BEST options for free graphics that will give you great looking designs with zero experience. I can't say enough good things about it. And I speak from experience, since we utilize it frequently for most of the graphics on this site.
Free site #2 – Beer Labelizer (www.beerlabelizer.com)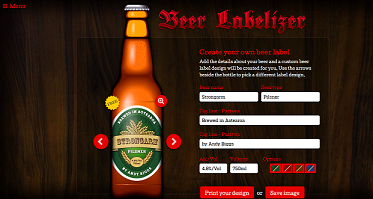 Now, let's say you checked out Canva and it's not something that interests you. You want something quick and dirty – something that will spit out a decent label and won't take you forever and a month to get it looking perfect.
My friend, I think I found you the perfect match: Beer Labelizer.
With Beer Labelizer, what you see is what you get. It's a simple, quick, and easy graphic design tool with one goal: help you make custom beer labels and nothing else!
All you have to do is choose a label that you prefer, pick a color scheme, and input your custom text. The Beer Labelizer tool will do all of the placement of the text for you. No messing with fonts, images, and the like. Instead, you get a perfect label every single time.
Yeah – it really is that easy to spruce up your typical plain brown bottle. You'll finally be able to show off your latest creations with a bit of style and flare, impressing both yourself and your friends.
Before you start getting too excited, let's jump into the details below to help you figure out whether or not this is the right tool for you:
The Good Parts
Can start making labels right away with zero experience.
Input text and the tool does the rest – no messing with text or image placement.
Ability to save or print off your finished labels.
Allows image uploads to enhance labels that use custom images.
The Not-So-Good Parts
Only a limited amount of templates to choose from.
Not much room for customization, as uploaded images have to fit within specific areas of a template.
Restricted by a VERY small option of color schemes.
Due to the use of templates with minimal customization available, designs will not be unique.
Should You Use It?
Let's be real here – if you're looking for something convenient that will jazz up your homebrew, this is a pretty useful tool. It serves it's purpose and allows you to spend more time brewing beer and less time worrying about what your final product will look like.
However, if you want to make your homebrew look more "shelf worthy", using a tool like Canva and taking the time to learn it might work out better in the long run.
Make Your Beer Fun Again
Okay, so I said it. We all too often get caught up in the semantics of homebrewing that we often forget why we got into it in the first place – to have fun! 
Creating your own custom beer labels is a great way to put the final touches on the brew that you work so hard to create. Take advantage of the two sites above and see what kind of cool designs you can come up with!
Of course, if you know of any other cool or unique ways to make your own beer labels, don't be afraid to comment and let us know. We'd love to hear from you.